I want to address something about the pictures from the last couple of days - both here and over on the Autumn Challenge website. The last couple of days I have posted some pictures with some crazy blue skies. Nobody has asked me about that, but I want to take a moment to explain. So, by unpopular demand, I want to explain why my skies are darker than other people's skies. There are a few reasons why this is the case. As a test subject, let's take this picture from a couple of days ago: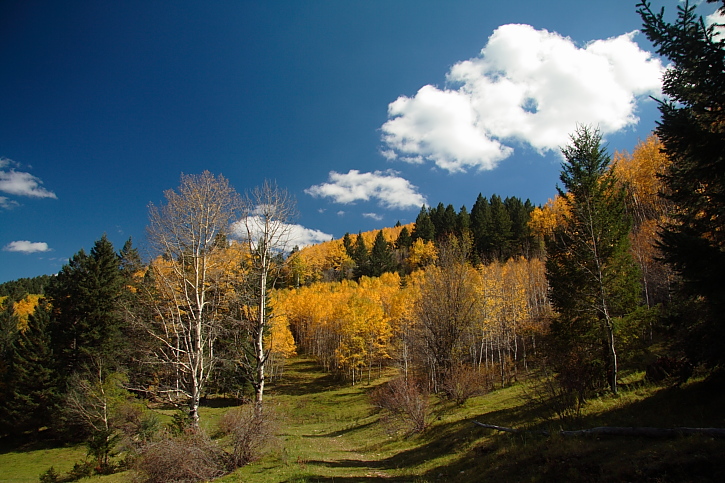 1) Something that most people do not think of is that the sky gets bluer and darker the higher you are above sea level, and this picture was taken at around 9,000 feet. That's over a mile higher than where I live and where a lot of my blog readers live.

2) I underexpose my pictures by about a 1/3 of a stop. What does this mean? The picture is slightly darker than it should be, but the colors pop a little more.

3) Did you notice how the upper left hand corner is darker than the rest of the picture? That's because of a filter I am using called a polarizing filter. This filter screws onto the front of my camera lens, and its purpose is to remove reflections. This means the colors become more saturated-both the sky and the leaves. So, that helps to darken the sky. Polarizing filters only work if you are facing away from the sun. This lens is a wide angle lens, and the sun is to my right. So, that's why the sky gets darker as you go to the left - the sun is to the right and the polarizing filter only filters away from the sun.

As an aside, when I first got this lens, I immediately put the polarizing filter on it. I thought there was a problem with the lens when one corner like this would be dark. I finally figured out it was because I was getting so much sky with the wide angle lens that the sky itself was changing shades of blue due to the polarizing filter. The polarizing filter is the big reason why my skies appear darker than they probably should.

4) The time of day you take your picture makes a big difference. the couple of hours after sunrise and before sunset give great light to take pictutes in. Pictures taken in the middle of the day do not look the same based upon the harsh sunlight.