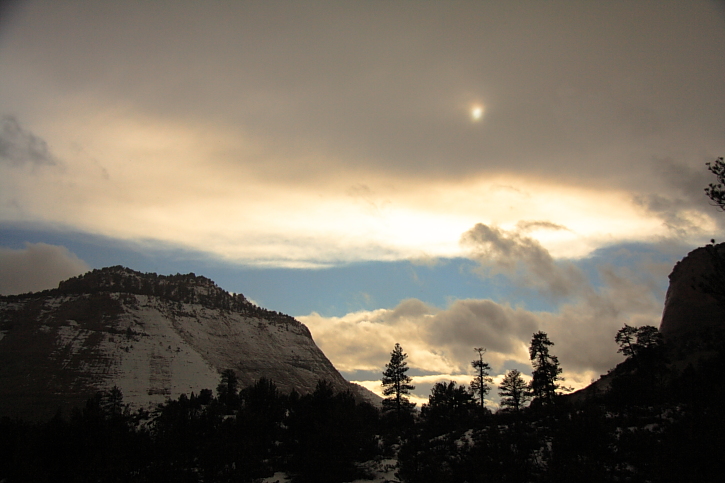 And before you ask, yes, that is the sun behind the clouds. It was actually snowing on us where I took this picture.

I have a little time tonight, so for anyone who is interested, here is a quick rundown of where Alison and I are and what we are doing. I am tired and so this will be rambly and even pointless, so reader beware. You've been warned. Okay, here we go.

We left out on vacation last Thursday and have been seeing some AMAZING scenery. We made it to northwest New Mexico on Thursday night and spent the night there. On Friday we made it Flagstaff, Arizona, which is our home base while on vacation. We stopped off on Friday at the Painted Desert and Petrified Forest National Park, and we loved seeing the colorful landscape around there.

As for Flagstaff, wow, what a town. There is National Forest right outside of town with the highest peaks in Arizona - over 12,000 feet. Alison describes the town as a laid back, outdoorsy, college type of town with a forest and mountain range in its backyard. On Friday night we went downtown and found ourselves surprised by the night life and how vibrant it was. They were having a downtown artwalk which probably helped bring out the crowds. We ended the night up at the Lowell Observatory, which is nestled at 7,250 feet and is literally a mile from bustling downtown. Flagstaff is a spread out town and the Observatory is that close; although it has specific light rules so you still get a good view of the sky without a lot of light pollution from the town. We enjoyed our time there and really loved looking through the HUGE 115 year old Clark telescope at the place where Pluto was discovered.

Saturday was a visit to the Grand Canyon, and it was a great place. Neither of us had ever been there before, so this was a big deal. We took the east entrance into the park, which is something I recommend if you are going in the morning. The vast majority of visitors to the Grand Canyon come in the south road, and by coming in from the east, we had small crowds at the east overlooks. And the nice touch was getting to be surprised later in the day by how beautiful the landscape is around the visitor center. The picture I posted from the Canyon was taken at the far east viewing overlook - where the Watchtower is.

On Sunday, we took an unreal scenic drive down to Sedona. There is a 28 mile drive that has got to be one of the most scenic drives in the country. Awesome. It is a windy climbing road that will never be forgotten by us. Beautiful.

Today, we left for Zion National Park. What should have been a 4 to 5 hour drive turned into an 8 hour drive since we couldn't stop staring at the beautiful surroundings throughout the course of the trip. It's hard to describe the breathtaking view of the Vermillion Cliffs you see, and no pictures can ever capture what it is like. The drive was wonderful, and we even drove through everything: sun, fog, rain, sleet, hail and even snow. We came into Zion through the east entrance, and I really cannot think of what to say about that drive. The eastern side of the park is hard to describe. There are red hills and mountains (covered with snow today) and just randomly placed enormous ponderosa pines around. All of this while driving through a canyon and craning your neck trying to see everywhere. Once we got to the main road, the view changed into what we expected Zion to look like, and it is amazing. Still, I loved the snow covered view from the east entrance, and I highly recommend you come that way when you visit. AND EVERYONE NEEDS TO VISIT ZION AT LEAST ONCE IN THEIR LIVES! It's really amazing. We are staying at the Zion Lodge and it is indescribable what you see when you look out a window or step outside. That makes sense when you realize the canyon walls around you stretch up a half mile. Wow.

So, that's all for now. We will do some hiking tomorrow and then head back to Flagstaff on Wednesday (with a stop at the one place I have wanted to see and take pictures at since my sophomore year of high school, and no, I won't tell you what it is. You'll just have to check out the blog on Thursday).

I know this is long, but I knew some of you wanted an update. The scenery is gorgeous and it is a great reminder to us about the God who created all of this. And as beautiful as all of this is, it will pale in comparison to the beauty of getting to see Him face to face someday. Amen!